I can be a little impulse at times.
I got an email in mid-September from my friend Dan, it went something like this:
I thought you might like this.
As emails go it was hardly war and peace, but Dan must know me pretty well because 30 minutes after he clicked send, I'd given over my credit card details and signed up for the last trip of the year.
Despite having ridden along the length of the Rhine a couple of months beforehand I felt a bit apprehensive, thinking that I had probably signed up to join an elite bunch of experienced mountain bikers.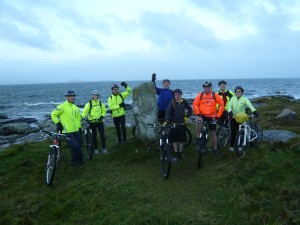 In reality it was an eclectic group and I can confidently say without risk of causing offence, that none of us were in danger of being described athletes.
I can't imagine any other circumstances in which we'd have come together like this, but it contributed to an interesting week as we cycled a mixture of roads, beaches, bogs and even through small rivers along the length of the Outer Hebrides.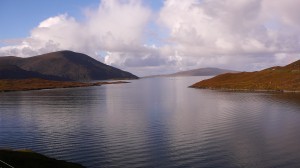 The views were stunning.
I hadn't really done any mountain biking before, but as we prepared to go off road by practising a few techniques I was surprised by just how many of the skills I already had. Spending my adolescence riding a BMX had not been entirely wasted time.
It didn't stop me falling off head-first down an embankment on the first proper bit of off-roading.
My leg still hurt, but I did feel much better when our guide went over his handlebars on the same stretch a couple of minutes later.
I liked the Hebrides and all the locals we met, but I think I'd go mad within a fortnight of living there.
There's not an awful lot to do apart from enjoying the scenery, and the religious observances on a Sunday (like tying up swings in playgrounds; fun is not allowed) are a bit much for an English heathen like myself.
The total length of the ride was 280km, which made for a reasonably comfortable five days.
Highlights were cycling in the mountains of Harris and taking a RIB (rigid inflatable boat) to access remote trails and Lochs. The 10km cycle along deserted beach on the first day will really take some beating, no matter where in the world I go.
I really enjoyed it, but its hard to get properly lost if you travel with a guide.