I lined up on the start line just before 6.30am for the 2013 (and my second) BHF London to Brighton Bike Ride.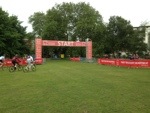 I don't feel my fitness is quite where it was last year, and with the absence of someone to compete against I took a slightly more relaxed approach from the start.
As well as the BHF ride, I also did this as a day trip one weekend last autumn so I am quite familiar with the route by now.
It helps a lot when you know what to expect.
In fact the only surprise was how much easier the first set of hills seemed compared to my memory of them.
I think Devon and Cornwall may have something to do with that.
I still wasn't pushing especially hard, but when I reached the half way point I looked at my watch to see it had only taken me 2h 6m.
I could still do a decent time.
It took me around 4hrs last year, so that became the target. I still had Ditchling Beacon to overcome a few miles before the end so I needed to put a few quick miles in to achieve it.
In 2012 I was struggling with a thigh strain by the time I reached the Beacon (the same one that flared up between Bath and Tiverton) and I had to get off and push the bike for half of it.
I won't say I enjoyed it this year, but I felt pretty good when I reached the foot of the hill and I can't remember anyone overtaking me on the way up.
I think this constitutes progress.
From top the remaining 7 miles were very quick indeed, and I briefly touched 43.5mph on the way down.
Its just a shame they covered up the speed camera at the bottom of the hill.
I crossed the finish line with a little under four hours on the clock, which I was more than happy with.
The main thing about this ride is that it is in aid of a very good cause.
The BHF fund vital research into heart problems, including the causes of SADS and I was proud to take part in an event that raises over £3.5m every year.
They can always do with a little extra help, so if you'd like to sponsor me please click this link to donate.
Bike computer stats:
Ride time: 3h 58m
Distance: 53.55 miles
Max Speed: 43.5 mph
Ave Speed: 13.4 mph