The invitation of a Stena Seaways Full English breakfast that came through the ships tannoy at 7am was tempting, but I didn't really have the stomach for it with several hours cycling ahead.
I figured I would get something lighter once on shore, and exiting the ferry I headed down to the Strand where I'd finished my Rhine trip, for starting photo.
The cafés were all shut, but I figured it was early (8.30am) so I'd get a couple of miles in first.
It was a fairly cool morning and with the wind behind me I set off at a good speed.
Then half a mile up the cycle path, it changed direction and I was cycling into the wind.
The cycle path ducked and dived behind the sand dunes, offering occasional shelter (or even the wind behind me where it cut inland), but it was predominantly wind in my face.
I enjoyed the scenery, but every time I got to a cluster of cafés they were shut. Even when I got to the port of Scheveningen to the East of Den Haag the cafés remained resolutely closed.
The Dutch definitely don't do breakfast.
I was getting seriously hungry, and it wasn't until the seaside resort of Katwijk another 10 miles up the coast that I found a cafe and stopped – after putting in 2 and a half hours.
I was crashing and burning, and needed food badly.
It was 11am, and when I asked if they had anything to eat the owner agreed to let make me a sandwich – despite it being before midday.
It wasn't until the sandwich arrived when she slid out a massive apple cake to serve enormous slices to the people behind me. I'd have much preferred it, but somehow it wasn't good enough to offer when I originally asked.
I should have had the cake as well.
A few miles further up the coast through a national park of sand dunes and I was really flagging when a weather front started coming inland and I was soon pedalling very hard into the wind and going nowhere fast.
At Zandvoort the route eventually cut inland for the last few kms to Haarlem, and I was just about able to keep ahead of the weather as I reached the centre.
I was just in time to get some shelter, but a seriously spent force.
I almost called it a day there and then.
It took a long lunch in an all you can eat Japanese restaurant before I felt replenished enough to try carrying on.
It was 4pm, but I decided to see how far I could get.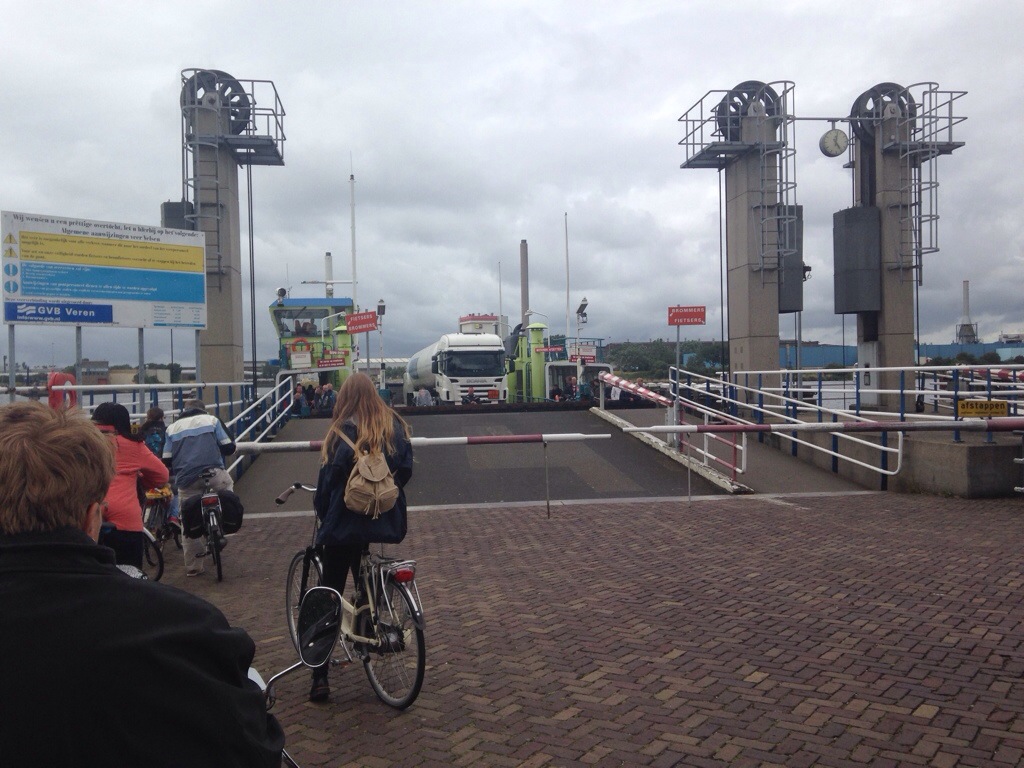 It took almost two hours (and a ferry) to get clear of the urban area North of Haarlem, but then all of a sudden I was in the dune parks, only this time with pinecones (and trees).
I didn't see a soul for over two hours.
I'd decided to soldier on to Calantsoog, but when I got there at 9.30pm there was no room at the inn. Everywhere was booked solid.
My best bet was to continue north to Den Helder.
It was 10.30pm and I had over 101 miles on the clock when I checked into the Forest Hotel.
An interesting mix of woodland cabin themes rooms in a seventies shopping centre, with its own cinema.
Which probably makes it sound a lot better than it was.
I'd done the miles, but had not reached my intended objective of Den Oever, not having realised the route came all the way out onto this headland.
I had still fallen 17 miles behind plan.
I knew I couldn't do another day like this tomorrow, even without the extra miles to make up.
But for now I didn't care and I collapsed into bed after a couple of small beers.