Friday, August 3, 2012
This was the easy day that turned out to be anything but.
I set out early with the objective of completing stage one by lunchtime before heading back onto the Rhine proper as it leaves Lake Constance.
The first incident happened just after pulling out of the hotel garage, following two althletic looking guys in matching lycra on their very expensive looking mountain bikes. Poseurs in the extreme who somehow managed to end up crashing into each other while turning left and ending up in a heap in the middle of the road.
I tried not to laugh, I really did.
Setting off early was a good move. It was much cooler, and I really enjoyed the run along the lakeshore as the route ducked in and out of little villages and towns with wooden framed houses, vineyards, orchards and seafront.
It was after about 15km that it happened.
I was cycling along casually when all of a sudden there was a mass of clanking from the bike and the gears started jumping around. I pulled up quickly to retrieve the end of a broken spoke from my derailleur, managing to bend and twist it into a position so that I could carry on riding.
However all was not well with the bike. It quickly became apparent that spokes serve a very useful purpose, and my wheel was now slightly warped, with the net affect that the rear brakes were being applied during every turn of the wheel.
It's been said before, but I was in need of professional help.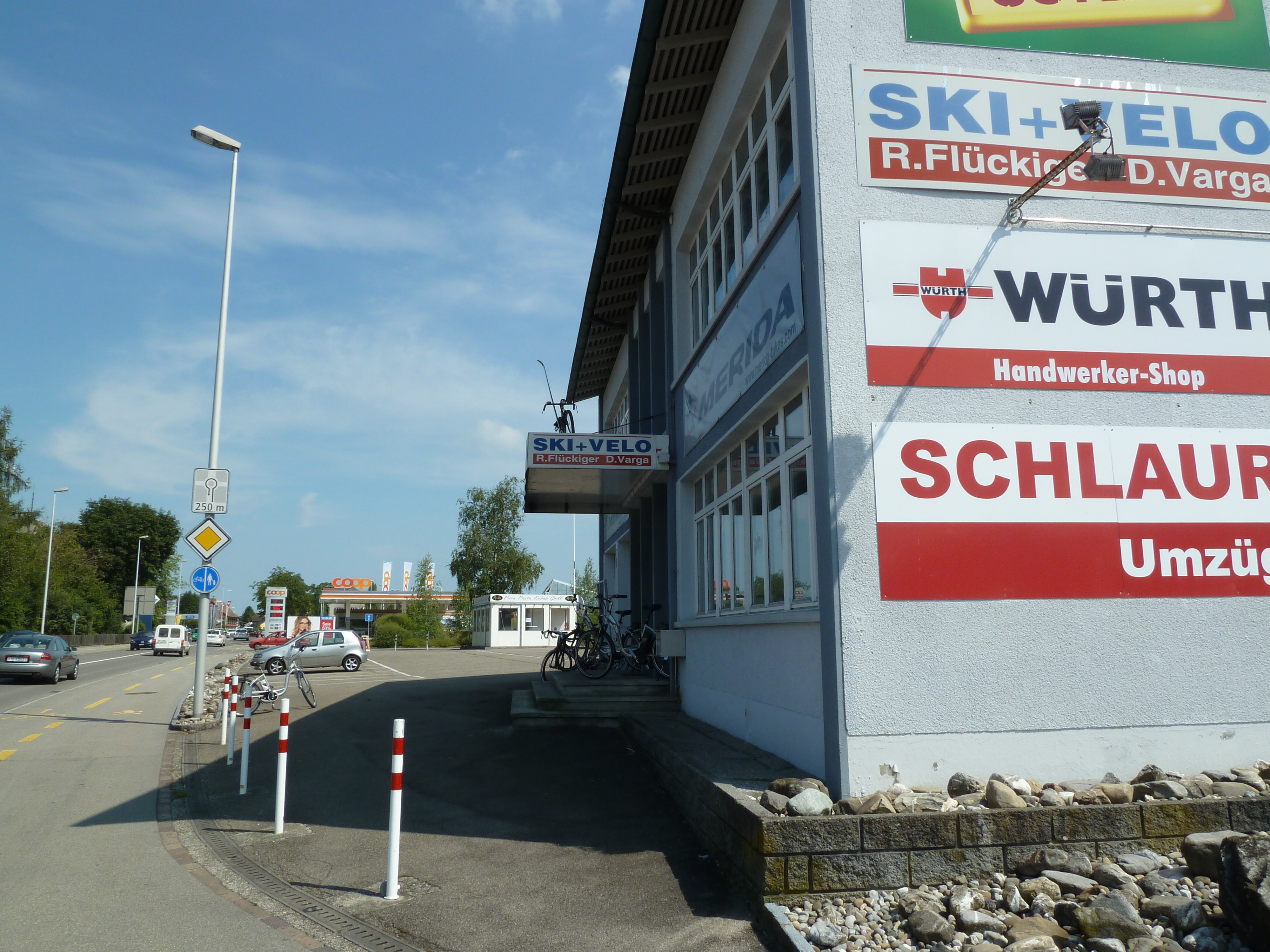 I managed to limp along the next 20km to Kreuzlingen where I spent an hour finding a bike shop (above), and leaving it with them went off the grab lunch.
I must have spent so long on the bike now that I found myself wandering through the edge of town in a bike lane, like someone out of a Flann O'Brien novel.
Yesterday I managed to eat lunch in Lichtenstein without realising. Today whilst wandering through a park I accidentally wandered into the adjoining town of Konstanz in Germany. I didn't even realise until it came to pay and I discovered the bill was in Euros.
If I had a map I would know about these things.
After picking my bike up I made a very belated start on the next section of the journey to Schaffhausen.
Or at least I tried.
Just 2km down the road I got a flat tyre in the rear had had just been changed in order to fit my new spoke. The culprit a sharp piece of plastic that must have somehow found its way in there while in the bike shop.
Grrr.
New tube in, I was finally able to set off for the final 46km down the Rhine to Schaffhausen, and what a lovely section of river it was. The route swept up and down through vineyards and villages, criss-crossing the Rhine several times and would have been even better had it not been for the advancing hours and the need to get to my destination and find lodgings and food for the evening.
I was now in the Rhine Valley proper.
Statistics for the day:
Distance, 85km
Elevation, 300m (estimated)
10 hours total (5hrs ride time)
Total distance covered, 299km (ave. 100km per day)
Footnote:
When I was packing I grabbed the first bottle of suncream I could from the bathroom cabinet.
It was one I bought in India a couple of years beforehand. Supposedly a well known brand, I don't think the contents of the tube matched the name on the tube. Just 5 minutes after application it made me pour with sweat,  an effect that was something like being smothered head to toe in cooking oil.
Not so good for cycling.
In fact it was so bad that about 5 minutes after snortling at the mountain bikers falling, my own hands slipped clean off the handlebars as I was turning onto a road. I managed to style it out, but it was less than graceful.
I added new suncream to the mental list of things I needed to buy when I got chance to stop cycling.
Index
I think the first bit might be a bit hilly
Day 2 – Chur to Rorschach and lunching in Lichtenstein
Day 3 – Rorschach to Shaffhausen and the need for professional help

Day 4 – Schaffausen to Basel and the end of the Swiss section
Day 6 – Strasbourg to Karlsruhe
Day 7 – Karlsruhe to Goddelau and more getting lost
Day 8 – Goddelau to Koblenz on a spoke and a prayer
Day 9 – Koblenz to Cologne, the day I hit the wall
Day 10 – moving North from Cologne
Day 11 – Nijmegen to Gorinchem, clogging it along the dijks
Day 12-13 Gronichem to Hoek van Holland and the end of the Rhine