I started spotting the tell tale signs of a slight southwesterly wind on the train north from Inverness.

I met Tim on the platform at Inverness station as we were unloading our bikes from the Caledonian Sleeper.
Like me he was catching the train to Wick and cycling up to John O'Groats to begin cycling to Lands End, so we got chatting.
The train to Wick takes a circuitous route, stopping at Thurso on the North coast before heading SE to Wick, so we decided to jump ship there and cycle there from a different direction to avoid doubling back.
The coast road undulates, and despite a vigorous side-wind we made good progress, completing the 20 miles from Thurso in under an hour and a half before having the obligatory photo on the start line.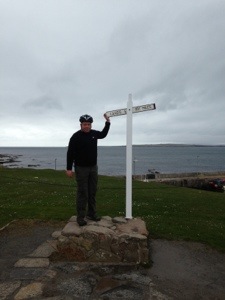 Cycling west to east I'd averaged 14mph, but as soon as I turned south to cycle to my guesthouse things changed. Sidewind turned to headwind and I could only manage 6mph on the relatively gentle incline as I headed inland.
At that rate tomorrows cycle ride will take 20 hours. Oh dear.
Only one thing for it.
I retired to the pub to check tomorrows forecasts over a few pints of Orkney Ale, a haggis tower and a Caithness haddock.
The consensus is a 20mph headwind.
It's going to be quite a long day.
Index
Things you would rather not know about the Caledonian Sleeper to Inverness
20 miles with a bloke called Tim, and a slight change of plan
Day 1 – John O'Groats to Inverness
Day 2 – Ness to Nevis and my nemesis rears its head
Day 3 – Fort William to Tarbert with only one brake
Day 4 – Tarbert to Ayr and the battle of Arran
Day 5 – Ayr to Dumfries and tasting defeat in the Forest of Galloway
Day 6 – Dumfries to Windermere and thoughts on cycling earworms
Day 7 – Windermere to Liverpool and the birds-eye of the storm
Day 8 – Liverpool to Shrewsbury and the ferry across the Mersey
Day 9 – Shrewsbury to Gloucester with sun, showers and an injured Armadillo
Day 10 – Gloucester to Bristol and the day I spoke to soon
Day 11 – Bristol to Bath, a day of disused railway lines
Day 12 – Bath to Tiverton and the breakfast hostage
Day 13 – Tiverton to Lostwithiel and fatigue causes forgetfulness
Day 14 – Lostwithiel to Penzance, and the mining trail
Day 15 – Penzance to Lands End (and back again)
Ideas for cycling end to end, with the benefit of hindsight