With my [un]extensive training schedule complete, I've turned my attention to the bike itself this week.
In addition to adjusting the brakes, lubricating the chain, fitting the mudguards and readjusting the panniers, I'm hoping a few well targeted improvements will make for a smoother journey.
First item on the list was a new back wheel.
I really struggled with broken spokes cycling the rhine last year, so if I only made one improvement this had to be it. I've also replaced the pedals and chain (which were showing signs of wear), added a top bar bag and an additional cage and water bottle.
I still won't be carrying a conventional map, however I will be taking an iPhone 5 on a stem mount that will enable me to use its mapping capabilities whilst on the move.
The iPhone also provides a blogging solution, for which I'll be using WordPress for iOS.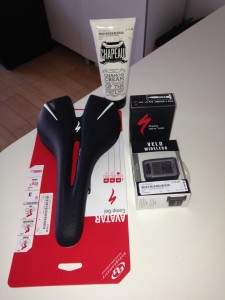 I finished fixing things to the bike on Tuesday evening, so it only remained for me to call into my local bike shop to pick up an extra inner tube.
I ended up bringing home a new saddle, a bike computer and some very soothing sounding menthol chamois cream.
Whoops.
With the final amendments to the bike made, I will be setting off for the Scottish Highlands in exactly 9 hours.
If you would like to sponsor me please visit my donation page.
Index
Things you would rather not know about the Caledonian Sleeper to Inverness
20 miles with a bloke called Tim, and a slight change of plan
Day 1 – John O'Groats to Inverness
Day 2 – Ness to Nevis and my nemesis rears its head
Day 3 – Fort William to Tarbert with only one brake
Day 4 – Tarbert to Ayr and the battle of Arran
Day 5 – Ayr to Dumfries and tasting defeat in the Forest of Galloway
Day 6 – Dumfries to Windermere and thoughts on cycling earworms
Day 7 – Windermere to Liverpool and the birds-eye of the storm
Day 8 – Liverpool to Shrewsbury and the ferry across the Mersey
Day 9 – Shrewsbury to Gloucester with sun, showers and an injured Armadillo
Day 10 – Gloucester to Bristol and the day I spoke to soon
Day 11 – Bristol to Bath, a day of disused railway lines
Day 12 – Bath to Tiverton and the breakfast hostage
Day 13 – Tiverton to Lostwithiel and fatigue causes forgetfulness
Day 14 – Lostwithiel to Penzance, and the mining trail
Day 15 – Penzance to Lands End (and back again)
Ideas for cycling end to end, with the benefit of hindsight