I ripped up the plan and decided it was time to take a more direct route today.
I was knackered before I even started, which may go some way towards explaining what happened next.
I spent the first couple of miles fighting a sense of having forgotten something, and mentally running through a list of everything I should have packed.
Nope. I could remember packing everything, so I relaxed into the ride.
Considering the fact I had barely been able to walk since yesterday's ride I was making surprisingly swift progress.
I put it down to the first few miles being pretty flat. A feature of the ride that didn't last long.
4 miles in I reached a really steep hill and was up on my pedals for the first time. I immediately noticed something didn't feel right about the bike, the back was swinging around wildly.
Fearing I hadn't attached one of the panniers properly I looked at the back wheel.
No panniers.
I hadn't forgotten to pack anything at all, I had forgotten my luggage entirely.
Doh.
After making the return trip to Tiverton for my bags I was back to tackle the hill. It seemed to go on for about a fortnight, was incredibly slow and I was about ready to collapse by the time I got to the top of it.
The downhill on the other side was fantastic though, and I hit my highest speed of the trip so far, 42.5 mph.
It was almost midday by the time I reached Crediton, and I hadn't even done 20 miles (and 8 of those were unnecessary), so my prospects of making decent progress didn't look good.
I felt like asking them if they take bikes too.
The next 20 miles to Okehampton was just as hilly. Tough going, but it was just a case of plodding on as best I could.
After a late lunch, I started off again at 3pm and headed out of town. I was really noticing the cold high up on the moors, and could see my breath as I was riding.
Several miles later I was faced with an unpleasant decision. Dual carriageway, no through road or backtrack 5 miles to pick up a B road.
I didn't like any of them.
I settled on the no through road. Reasoning there must be a way of getting a bike through (though quite how I came to that conclusion I had no idea).
Hope came to the rescue in a sign for a cycle route, which when I got on it was a blissfully flat old railway line running along the edge of Dartmoor.
I embraced it.
I was deviating from my route, heading South towards Tavistock, but it seemed a viable route towards St Austell.
After a few miles I was forced back onto the roads, and after some descents some serious hills back up onto Dartmoor before finally dropping into Tavistock.
It was getting on a bit, but from here I thought I would give it a go for the final 38 miles to St Austell.
I hadn't counted on terrain like the Tamar Valley. About as hilly as it gets, and the hills just kept on coming.
As the evening drew on I was getting slower and slower, practically collapsing at the top of e every hill.
I gave up at 9pm, finding a nice room above a delightful pub in the town of Lostwithiel, just 8 miles short of St Austell.
I did have time to spot another interesting car.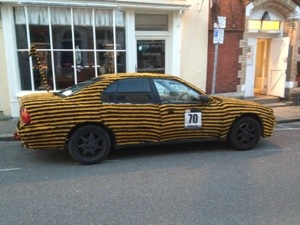 Hopefully it will bring out the tiger in me, as there will surely be more hills tomorrow.
Bike computer stats:
Ride time: 9h 23m
Distance: 89.3 miles
Ave speed: 9.5mph
Max speed: 42.5 mph
Index
Things you would rather not know about the Caledonian Sleeper to Inverness
20 miles with a bloke called Tim, and a slight change of plan
Day 1 – John O'Groats to Inverness
Day 2 – Ness to Nevis and my nemesis rears its head
Day 3 – Fort William to Tarbert with only one brake
Day 4 – Tarbert to Ayr and the battle of Arran
Day 5 – Ayr to Dumfries and tasting defeat in the Forest of Galloway
Day 6 – Dumfries to Windermere and thoughts on cycling earworms
Day 7 – Windermere to Liverpool and the birds-eye of the storm
Day 8 – Liverpool to Shrewsbury and the ferry across the Mersey
Day 9 – Shrewsbury to Gloucester with sun, showers and an injured Armadillo
Day 10 – Gloucester to Bristol and the day I spoke to soon
Day 11 – Bristol to Bath, a day of disused railway lines
Day 12 – Bath to Tiverton and the breakfast hostage
Day 13 – Tiverton to Lostwithiel and fatigue causes forgetfulness
Day 14 – Lostwithiel to Penzance, and the mining trail
Day 15 – Penzance to Lands End (and back again)
Ideas for cycling end to end, with the benefit of hindsight