It was quite windy but at least the sun was shining as I set off from Windermere.
Then just five minutes into the ride I got hit by a mini-hailstorm.
Weird weather for May.
Gradually the steep hills of the Lakes turned into the gently rolling hills of North Lancashire, and then once I got past Lancaster things started to flatten out.
I was about halfway to Preston when it started hailing again. This time the hailstones were the size of frozen peas.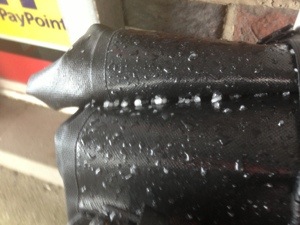 Luckily I was able to dodge the worst if it by ducking into a petrol station.
My next stop was at Leyland where an ice-cream and coffee bar was just too enticing to pass up.
I got chatting to the owner who said she would have given my the coffee and ice-cream for free if she'd known what I was doing.
It's the first time I've been offered free stuff, but throughout the trip people seem fascinated by the idea of cycling from end-to-end.
Unfortunately it was a bit if a watershed moment, as the last 24 miles from there to Liverpool were very windy indeed.
I arrived at 7.30pm having made a really good start on leg two.
The extra miles meant that I only have to do an average of less than 60 a day for the rest if this week to make my weekend rendezvous in Bath.
Bike computer stats:
Ride time: 7h 47m
Distance: 83.1 miles
Ave speed: 10.5 mph
Max speed: 32.1 mph
Index
Things you would rather not know about the Caledonian Sleeper to Inverness
20 miles with a bloke called Tim, and a slight change of plan
Day 1 – John O'Groats to Inverness
Day 2 – Ness to Nevis and my nemesis rears its head
Day 3 – Fort William to Tarbert with only one brake
Day 4 – Tarbert to Ayr and the battle of Arran
Day 5 – Ayr to Dumfries and tasting defeat in the Forest of Galloway
Day 6 – Dumfries to Windermere and thoughts on cycling earworms
Day 7 – Windermere to Liverpool and the birds-eye of the storm
Day 8 – Liverpool to Shrewsbury and the ferry across the Mersey
Day 9 – Shrewsbury to Gloucester with sun, showers and an injured Armadillo
Day 10 – Gloucester to Bristol and the day I spoke to soon
Day 11 – Bristol to Bath, a day of disused railway lines
Day 12 – Bath to Tiverton and the breakfast hostage
Day 13 – Tiverton to Lostwithiel and fatigue causes forgetfulness
Day 14 – Lostwithiel to Penzance, and the mining trail
Day 15 – Penzance to Lands End (and back again)
Ideas for cycling end to end, with the benefit of hindsight