After a lovely weekend at a nice hotel in Bath it was time to get back on the road.
To aid an early start I ordered an early breakfast from room service, to be delivered between 7.30-7.45.
I was showered, packed and ready to go. But where was breakfast?
At 7.50 I rang reception and was assured it would be with me in 5 minutes.
I was itching to get going, but didn't want to skip breakfast. Yet still it didn't come.
By 8.15 it was time for a more direct approach.
The breakfast you said would be here in 5 minutes, 25 minutes ago still hasn't arrived. If you can't get it here within 5 minutes would you kindly let me know so I can get on with my day?
I had some serious cycling to do.
An out of breath waitress arrived with my tray 3 minutes later. They didn't have the grapefruit juice I'd ordered so had laid out one of every other kind of juice they did in a sort of juice-rainbow on the tray.
It amused me, but I would have rather had the early start.
I left Bath by cycling 5 miles back up the Bristol-Bath railway path. I don't really like backtracking, but at least it was a flat route out of the city.
From there I picked up national cycle route 410 heading westward into the hills.
It was pretty hilly for the next 20 miles, and at the top of one hill the chain fell off and jammed itself between the granny wheel and the frame.
It took 20 mins (and quite a lot of swearing) to free it, during which time I managed to get my hands covered in oil and cut my finger.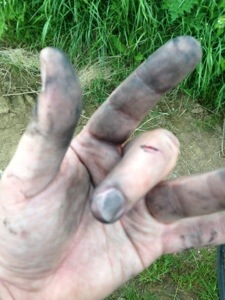 Ouch.
At least it provided an excuse to stop at a campsite, get cleaned up and enjoy an Almond Magnum (now retailing for £1.75).
A few miles later I picked up NCN3 "The West Country Way" a scenic route that runs all the way to Lands End.
I had designs on reaching Barnstaple today, a distance I had guesstimated at 115 miles when looking at the map.
It was pretty obvious that the scenic route was adding some serious miles to the journey.
For example Bridgewater to Taunton is 16 miles along the canal, in direct comparison to the 8 it would have taken by road.
It was great riding though.
Quiet roads, beautiful countryside and waterways. Great stuff, and after Taunton the sun even made an appearance.
If only my legs weren't hurting so much.
My left knee has been protesting at hills for a few days now, and today I managed to reactivate a pulled muscle in my right thigh.
Any kind of [upward] gradient is now misery, and any hopes I had of reaching Barnstaple had long since faded.
I pulled into Tiverton for the evening after the second longest day of the trip, to see a bike-route sign telling me there is a further 46 miles to Barnstaple.
It seems pretty obvious that something is going to have to give.
Bike computer stats:
Ride time: 9h 56m
Distance: 109.8 miles
Ave speed: 11.0 mph
Max speed: 31.2 mph
Footnote: The photo does not do the cut justice. I still have a scar on my finger. (4 Aug 13)
Index
Things you would rather not know about the Caledonian Sleeper to Inverness
20 miles with a bloke called Tim, and a slight change of plan
Day 1 – John O'Groats to Inverness
Day 2 – Ness to Nevis and my nemesis rears its head
Day 3 – Fort William to Tarbert with only one brake
Day 4 – Tarbert to Ayr and the battle of Arran
Day 5 – Ayr to Dumfries and tasting defeat in the Forest of Galloway
Day 6 – Dumfries to Windermere and thoughts on cycling earworms
Day 7 – Windermere to Liverpool and the birds-eye of the storm
Day 8 – Liverpool to Shrewsbury and the ferry across the Mersey
Day 9 – Shrewsbury to Gloucester with sun, showers and an injured Armadillo
Day 10 – Gloucester to Bristol and the day I spoke to soon
Day 11 – Bristol to Bath, a day of disused railway lines
Day 12 – Bath to Tiverton and the breakfast hostage
Day 13 – Tiverton to Lostwithiel and fatigue causes forgetfulness
Day 14 – Lostwithiel to Penzance, and the mining trail
Day 15 – Penzance to Lands End (and back again)
Ideas for cycling end to end, with the benefit of hindsight