Following the river westwards from Inverness I spotted the first signs of cheesi-ness.
10 miles of slightly hilly main road later I reached Dores where I left the main road to take to the old military road running alongside Loch Ness.
After 19 miles the tired-ness began to kick in, so I deployed the first half of today's portion of fruit gums.
Just in time.
As the road swung away from the Loch to rejoin the main road to Fort Augustus it started going up.
To make matters worse my old nemesis the broken spoke made an appearance, lightly applying the back brake to give me a bit more exercise.
90 mins later I was battling a fierce headwind on a mountain plateau high above the Loch as the road kept rising.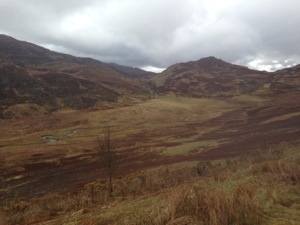 I was also bloody knackered.
The final two mile descent into Fort Augustus was good fun, despite being tempered by driving rain stinging my face as I hit speeds of 35mph.
Despite the towpath along the Caledonian Canal promising a bit of flat, it didn't make things any easier. It was quite rocky, and then a few miles along it disappeared under water.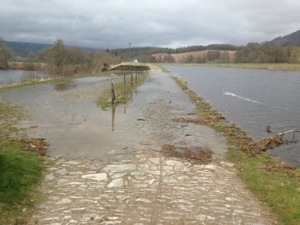 I managed to ride it out, but loaded up with luggage none of this was doing my back wheel any good.
Where the path ended I had planned to take to a woodland trail. It was immediately obvious from the trail head that this route was not for road bikes, so I decided to stick the tarmac for the next 25 miles to Fort William.
It was still incredibly hilly and I really began to struggle. I did get some good views of Ben Nevis from above the lower layer of cloud though.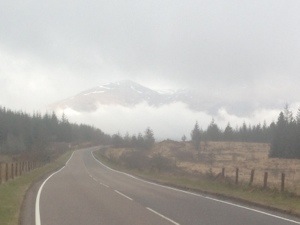 I limped into Fort William with some decisions to make. Disengaging the rear brake had made the broken spoke less of a hinderance, so I had to decide between a morning trying to effect a repair or getting an early start and pushing on to the Mull of Kintyre.
I decided to sleep on it.
Bike computer stats:
Ride time: 7h 2m
Distance: 68.92 miles
Max speed: 35.3 mph
Ave speed: 9.7 mph
Index
Things you would rather not know about the Caledonian Sleeper to Inverness
20 miles with a bloke called Tim, and a slight change of plan
Day 1 – John O'Groats to Inverness
Day 2 – Ness to Nevis and my nemesis rears its head
Day 3 – Fort William to Tarbert with only one brake
Day 4 – Tarbert to Ayr and the battle of Arran
Day 5 – Ayr to Dumfries and tasting defeat in the Forest of Galloway
Day 6 – Dumfries to Windermere and thoughts on cycling earworms
Day 7 – Windermere to Liverpool and the birds-eye of the storm
Day 8 – Liverpool to Shrewsbury and the ferry across the Mersey
Day 9 – Shrewsbury to Gloucester with sun, showers and an injured Armadillo
Day 10 – Gloucester to Bristol and the day I spoke to soon
Day 11 – Bristol to Bath, a day of disused railway lines
Day 12 – Bath to Tiverton and the breakfast hostage
Day 13 – Tiverton to Lostwithiel and fatigue causes forgetfulness
Day 14 – Lostwithiel to Penzance, and the mining trail
Day 15 – Penzance to Lands End (and back again)
Ideas for cycling end to end, with the benefit of hindsight