It was a bright sunny crisp morning.
Great weather for cycling and I made really good time following the river South from Dumfries and then West along the coast towards Gretna.
For once I had the wind at my back and I was in Gretna by lunch, feeling fresh and strong.
From there I hopped over the border and headed South again to Carlisle for a spot of carb-loading in an Emperor Hadrian themed Italian restaurant before tackling the Lake District National Park.
I bypassed the mountains of the Northern Lakes, crossing the A66 and entering the park at Matterdale.
An hour of hills later and I was slightly perplexed to be approaching the A66 again.
What?!?
Apparently there are two Troutbecks in the Lakes, leading to me taking a wrong turn and doubling back on myself.
Extra miles I definitely didn't need.
I headed back into the park, climbing once more before taking the correct route and the steep descent to Ullswater where the heavens opened.
A few miles later and I was at the foot of the Kirkstone Pass for the climax to leg one.
Gulp.
It was really steep, and really tough but not so bad as I imagined. I realised at the top that of the three routes there, that only one (the road to Ambleside) is 'the struggle'.
Oh, good. I can save that pleasure until next time.
The Kirkstone Inn at the very top is Britains highest pub, and a pint of beer has never tasted sweeter.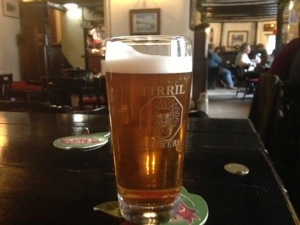 The downhill on the other side was incredible.
Are you familiar with the concept of earworms? You know, those songs you just can't shift from your mind?
The repetitive action of cycling provides a fertile breeding ground for earworms, and once they are in there they are hard to dislodge.
Up in John O'Groats Tim told me about getting Agadoo lodged in his brain whilst cycling. I have been on my guard against that particular one ever since.
For some reason today I had Remember you're a Womble going round and round in my head all the way from Carlisle to the top of the Kirkstone Pass.
I had two very good reasons for needing to be in the Lakes by Friday evening, as they were coming to meet me for the weekend from London.
The first one is called Chloe, and the second will be making his first public appearance in a few months time.
He doesn't have a name yet, but after today Orinoco is officially on the short list.
Bike computer stats:
Ride time: 9h 18m
Distance: 95.09 miles
Average speed: 10.2 mph
Max speed: 37.0 mph
Index
Things you would rather not know about the Caledonian Sleeper to Inverness
20 miles with a bloke called Tim, and a slight change of plan
Day 1 – John O'Groats to Inverness
Day 2 – Ness to Nevis and my nemesis rears its head
Day 3 – Fort William to Tarbert with only one brake
Day 4 – Tarbert to Ayr and the battle of Arran
Day 5 – Ayr to Dumfries and tasting defeat in the Forest of Galloway
Day 6 – Dumfries to Windermere and thoughts on cycling earworms
Day 7 – Windermere to Liverpool and the birds-eye of the storm
Day 8 – Liverpool to Shrewsbury and the ferry across the Mersey
Day 9 – Shrewsbury to Gloucester with sun, showers and an injured Armadillo
Day 10 – Gloucester to Bristol and the day I spoke to soon
Day 11 – Bristol to Bath, a day of disused railway lines
Day 12 – Bath to Tiverton and the breakfast hostage
Day 13 – Tiverton to Lostwithiel and fatigue causes forgetfulness
Day 14 – Lostwithiel to Penzance, and the mining trail
Day 15 – Penzance to Lands End (and back again)
Ideas for cycling end to end, with the benefit of hindsight